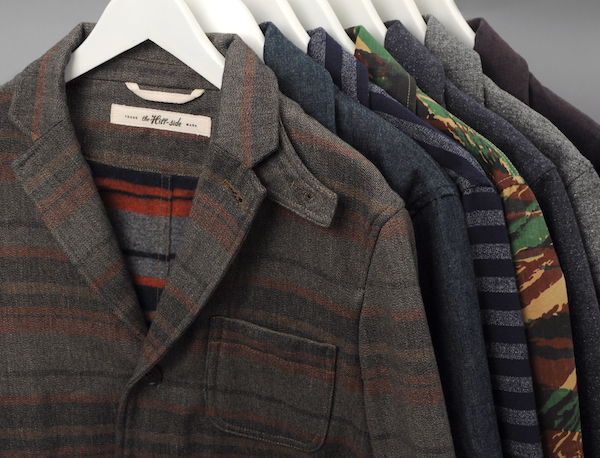 Fresh on the heels of their custom shirting program that debuted at the Pop Up Flea this past December, the good fellas behind The Hill-Side have upped the ante yet again. In a big way.

After nine seasons of sharply focusing in on the wares and impeccable fabric selection that The Hill-Side made their name with (the occasional collaboration aside), season 1O sees a drastic and what some might see as an inevitable move into a much broader range of offerings. Think The Hill-Side's signature fabrics and textiles in sneakers, hats, bags, belts, watch bands, and more. According to Emil, "For AW14, the collection will be almost four times the size it was just a year ago, and the overall vibe of The Hill-Side is continually taking on a richer, more sophisticated direction. In the AW14 collection we will be presenting shirts and unstructured sport coats for the first time, along with three styles of sneakers, ball caps, wool felt hats, wallets, belts, bags, socks, and a significantly expanded range of neckwear, all made in the USA (with the exception of the sneakers, which are made at a wonderful factory in Kyushu), and all using the beautiful, unparalleled fabrics we've become known for since we launched the brand four years ago."
And in regards to the aforementioned sport coats, here are the pertinent details:
- unlined body, lined sleeves
- center vent, patch pockets, removable throat tab, functional cuff buttons
- "three-roll-two" lapel
- made in NYC
- available in 7 fabrics: selvedge hemp denim, selvedge indigo covert stripe, cotton herringbone tweed in grey and navy, indigo/brown plain weave – custom woven for us in Pennsylvania – inside-out wool/cotton blanket stripe and French "lizard" camo
And what better venue to debut their vastly expanded AW14 line than the MAN tradeshow currently going on in Paris through Sunday and again in New York, January 21-23rd.



US retail prices range from $395 – $510, depending on the fabric and will be available sometime around August-ish. If you're in NY next week, head over to MAN to have a look first hand.