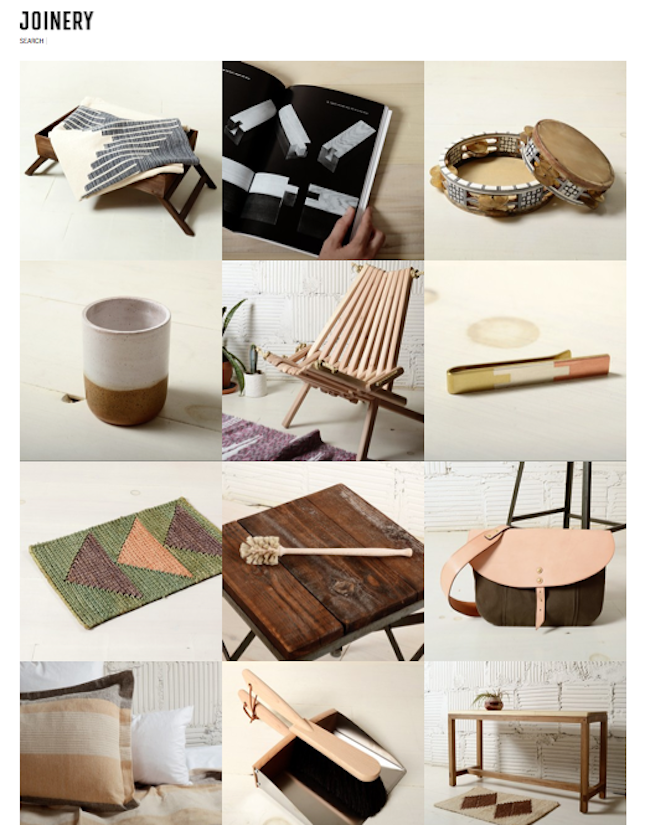 Last December, I had the pleasure of introducing you to Joinery, the wonderful bricks and mortar Williamsburg, Brooklyn shop opened and run by Angela Silva. Beautifully spare, warm and detail-rich, Joinery is a shop that feels fully realized from day one, as if it's always meant to be there. Over the past year, Angela, along with the constant pursuit of creating one of the most unique and essential range of products, has labored equally as pain-stakingly over the Joinery online incarnation. Deceptively simple, cleanly laid out, and with characteristically thoughtful and concise product shots, Joinery online again feels completely in stride with its real-world fore-bearer.



As Joinery owner Angela puts it, "If what you're selling relies upon what you're showing, you should have good-looking photographs and make ample room to display them. So much of what's unnecessary is also what's conventional, and it's amazing how easily you can be fooled into thinking something is useful just because you're used to seeing it.After months of taking pieces away, I started to strip the Joinery site down to only what is absolutely necessary. I didn't realize how hard this would be until a year into the design process when I still found myself asking whether things on the site really needed to be there."
It's this process by which Angela arrived at creating a clean, intuitive online shop that plainly, visually expresses Joinery's ethos.
Angela continues, "I thought a lot about how people arrive at a website with pre-existing knowledge, and how that can be used advantageously to eliminate things and make more room for what looks good. Users can use the "search" field to find what they want based on their knowledge of the way products tend to be categorized. If we do a good enough job of tagging products in lots of different ways, there can actually be a lot more sorting options than what could be fit into a menu. It's exciting to contemplate the idea that the more advanced something gets, the simpler it can be allowed to look."
Clean and simple. As it should be. And as the shop itself continues to evolve and grow, as does its online counterpart. Again, Angela, "We have a plan for additional navigation that will be implemented only once the number of products on the site demands it. For example, once we add men's and women's clothing to the site there will be some added navigation, but very little. We'll opt for staying on one page and looking at more items rather than creating more pages, each with fewer items."
While Joinery itself is well worth the visit(263 South 1st Street @ corner of Havemeyer + South 1st), if for no other reason than to admire the absolute attention to every unassuming detail, top to bottom, you can now pay a visit from where you're sitting. In fact, you can do that right now.
But go vote first.


(All images courtesy of Joinery)