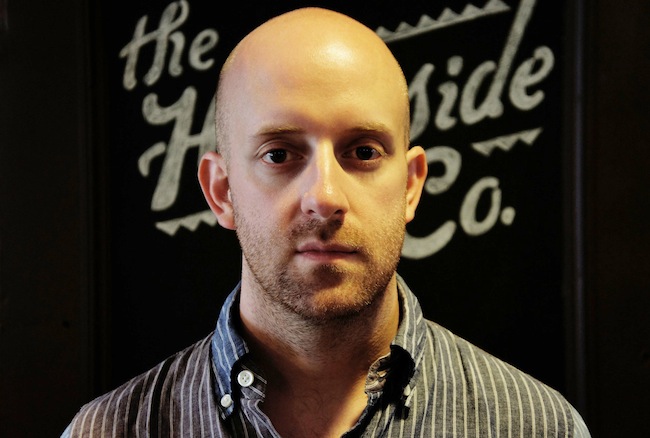 Emil Corsillo. The Hill-Side. Hickoree's. What can I say. He's one of the best dudes and one of my favorite people around. His brother and sis too. And after three years of asking nicely, he's finally (finally) agreed to do this. Blah blah blah…
Without much further ado, Emil Corsillo's Fall Three Four (Loko) (he asked me to write that last part.)



1) Breaking out the buttah leatherz. This is my A-1 jacket from The Few, probably the dopest jacket I own. I got it last winter and haven't really had much time to wear it. There aren't a lot of months in New York when the weather's right for this thing, so I've got to make the most of it right now.


2) Mac 'n' cheese. But not just any old mac 'n' cheese, I'm talking about the customized mac 'n' cheese with grilled chicken, broccoli, spinach, and a side of buffalo sauce from Gordon Bennett, the awesome bar downstairs from our shop. The idea of this food grosses me out during the summer, but as soon as it gets cold enough I start craving it like crazy. Some dumb ancestral part of my brain is telling me to get really fat for winter, and I mindlessly abide (which means my awesome A-1 jacket doesn't fit so well anymore).


3) Shearling moccasin slippers. This is a sample we made with Rancourt & Co., but we never ended up producing them. Maybe we'll make them next fall. They're based on Rancourt's awesome hand-stitched, leather-soled chukka moc, but with some of the extra details stripped away, and — #obvi — full shearling lining to convert them from shoe to slipper. Anyway, they are super warm and comfortable, and when fall comes they make the cold floors in my apartment bearable.


4 (Loko) Moonshine. I have no idea if moonshine is a fall thing or what. I've dabbled in the 'shine a couple times in the past, but never have I warmed to it like I did recently. We were down in rural Virginia last week, visiting "Old Bob the Weaver" who is making some amazing fabric for us on a 1930s shuttle loom in his back yard. The weather was unseasonably warm up in the Blue Ridge mountains, so we were lucky to have a big cookout around Bob's fire pit. To commemorate the occasion, Bob's neighbor and assistant weaver, Quack, brought over four flavors of the "mountain dew." And after extensive, rigorous research I concluded that strawberry is the best. The fruitiness of it, the danger involved in drinking it, and the fact that it's illegal, all make me nostalgic for the glory days of FOUR LOKO (ed. note: Tamped down by muy guaco locos). James, I think we're gonna need to drive down to VA in the spring and bring back a few gallons. Let's make a road trip of it.
#booyah
(ps. Head over to Hickorees Floor Two in Brooklyn. They're the new host to the roaming Apolis Nomad Market. )
Hickoree's Floor Two
109 South 6th street
Brooklyn, NY
11249